Few television shows have impressed me enough that I have dedicated time to watch them in their entirety. To this day, Gilmore Girls is one of the only series that I've watched in full and that continues to play on virtual repeat at least once a year in my house.
Admittedly, my infatuation with the show is partly sentimental as even hearing the theme song floods my mind with memories of sitting in the living room with my sister, munching on snacks, eagerly awaiting the next episode to start (yep, this was well before the on-demand phenomenon brought to us by Netflix) and debating if this would be the episode where Luke and Lorelai finally get together. During our teenage years, this was one of the few times we could set aside our sisterhood rivalries and simply enjoy time together. Today it's the only show that continues to make me smile, laugh, and cry no matter how many times I watch it.
For the person who has been meaning to watch Gilmore Girls and still hasn't, stop reading this blog post and go do it now! Come back, read, and give your input. The following post definitely has spoilers!
Whether you are a self-professed Gilmore Girls junkie, like myself, or you have never heard of the show (which I find hard to believe), here are five business lessons that I have learned from some of my favorite characters:
Kirk: If at first you don't succeed, start over?
Stars Hollow's favorite quirky, odds-and-ends job holder Kirk held at least 62 jobs over the span of the series. He always had some new idea to make a buck and often would show up to volunteer his services, in hopes of eventually landing a long-term gig. His creativity, determination, and (sometimes annoying) persistence was a lesson to us all.
Business Lesson from Kirk: Try something new, test the market, and persist until you find your niche. Oh, and do not forget the power of compounding interest.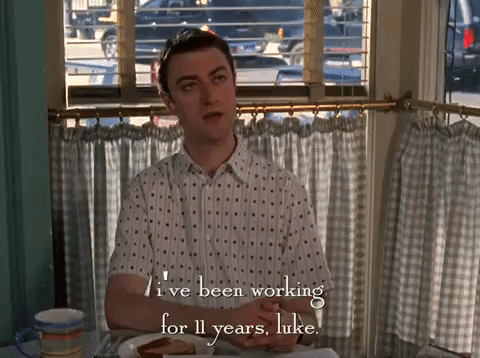 Richard: It is never too late.
Lorelai's by-the-books father always worked as a successful businessman. But, as the years marched on, he was eventually forced out of the firm and retired. As a result, he floundered about in search of new meaning and identity. It was through a school project with his beloved granddaughter, Rory, that his love for business was rekindled, and he decided to put his life's earnings at risk and start his own business.
Business Lesson from Richard: Launching a business always comes with risks, but it's never too late to take a step towards your dreams.
Paris: Teamwork and trust are important.
Paris was by far one of the funniest characters of Gilmore Girls. She's feisty, opinionated, strong, and was known for saying what everyone else was thinking but would never verbalize. She's intensely dedicated to her pursuits and demanded perfection from everyone around her. She was the top of her class and a notable over-achiever, but she's not the best people person.
In fact, her perfectionism reached an all-time high during her time as the editor-in-chief of Yale Daily News where she was continually frustrated by the flaws in her team's work and determined that no one could do it as well as she could. Eventually, her unrealistic expectations caused her staff to fear her and avoid her at all cost. She isolated herself in a makeshift bunker and created an unsurpassable barrier to accomplishing her main goal – namely, getting the newspaper out on time.
Business Lessons from Paris: Be careful in how you lead your team. Squelching people's ideas may eventually make them unwilling to share suggestions with you. Give people freedom and space to create; they need to feel trusted and appreciated. As fiercely independent as you may feel, you need a community and colleagues to be successful. And, as invigorating and cathartic as these hilarious one-liners might be, it is probably best that we leave them to fictional characters like Paris and not use them in the workspace.
Rory: "In omnia paratus."
In my all-time favorite episode, Rory overheard a girl shouting "in omnia paratus" one evening at Yale, which means "ready for all things." Out of curiosity, she discovered a secret society and another side of future-beau, Logan Huntzberger. Blindfolded and taken to an initiation event in the woods, she was invited to fill a last-minute opening in the "big stunt." She's finally persuaded to participate when her hunky crush looked into her eyes and said:
It's your choice, Ace. People can live a hundred years without really living for a minute. You climb up here with me, it's one less minute you haven't lived.
In that moment, our beloved, always-be-prepared Rory decided to seize the moment. She took the adventurous, unpredictable path, and it became a formidable moment that opened her mind to a whole new world – a turning point in her life.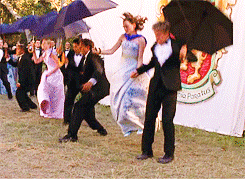 Business Lesson from Rory: There are times when last-minute speaking opportunities, swift meeting proposals, or unexpected business trips are presented to us, and our first thought is to say no. 
Take a deep breath, step outside your comfort zone and be open to these possibilities. These opportunities might just be the launchpad for your greatest professional growth. Sometimes, we just have to figuratively step off the ledge and say "in omnia paratus." Who knows the thrills that may follow!
Lorelai: Humility and forgiveness are important traits.
Honestly, I could have written this blog post just about Lorelai. As a single, working mom, she tirelessly cared for her daughter and her community all while working her way to the top, continuing her education, and pursuing her dreams.
Typically known for her bubbly personality and sarcastic humor, I saw a different side of Lorelei, especially when she pursued her dream of opening an inn. She encountered money troubles, missed appointments, and faced unplanned setbacks. Under pressure from her business obligations, she snapped at her best friend and business partner, Sookie, and said hurtful words, which she later regretted and wanted to take back. These words pained and haunted Sookie, and they also  impacted their relationship. In the show's seven seasons, this was the most serious threat to their long-lasting friendship, and it was only overcome through Lorelei's honest, heartfelt apology. Does this sound familiar? I think we've all been in this situation. We have either been the sender of hurtful words or we have been the receiver. Unfortunately, there are times under pressure when we hurt the ones closest to us.
Business Lesson from Lorelai: Manage stress in healthy ways, apologize when you lose it, and be careful to extend forgiveness for the times you have been offended. Healthy business relationships are critical to success, and honest, open communication is the only way to maintain them.
Bonus Lesson: Lastly and most importantly, never forget that all good ideas start with coffee. 
Come test us out at Beta Bar Coworking, where our team will always have a cup of coffee waiting for you and will always be open to talk more about the characters that we loved in Gilmore Girls. It may not be Luke's Diner, but it is a close second.